French custom designs, manufactures and supports mechanical drying and dewatering screw press systems. Their capacities range from 2-8 tons/hour for all types of synthetic rubber and thermoplastic production. Synthetic rubber producers in over 23 countries have achieved high quality products, ease of operation, flexibility for various grades, low and easy maintenance, and superior value with French products. Contact us for more information regarding polymer equipment or download our free brochure literature on dewatering screw presses and drying systems.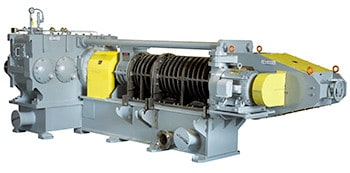 About French Polymer Dewatering Screw Press Systems
We manufacture dewatering screw press systems and extruder drying equipment for synthetic rubber and other polymers such as ABS plastic. French equipment is used by synthetic rubber producers in over 23 countries, having long been recognized as an industry leader.
We custom engineer polymer dewatering screw press systems to meet each customer's specific requirements. French dewatering screw press systems can perform at higher capacities and consistent discharge moistures. This is possible by utilizing well-proven screw designs and unique adjustable cone mechanisms. Our equipment capacities range from 50 kg/hr for pilot plant equipment to 12 metric tons/hour for commercial size equipment.
French Dewatering Screw Press Designs
We offer a Dewatering Screw Press along with our Super Dewatering concept that enables customers to dewater and dry materials to the 3% moisture range with just one machine. This lowers installation and operating costs and, because of operation at lower temperatures, delivers better quality. Meanwhile, French Mechanical Dryers are available in two types: Expansion type extruder dryers and vented mechanical dryers. Mechanical dryers are used in series after our dewatering presses. Plus, Aftermarket Sales offers a complete line of replacement parts for French Polymer Machinery, as well as rebuilding services for used French dewatering screw presses and extruder dryers.
Polymer Innovation Center
The French Innovation Center, located at our Piqua, Ohio headquarters, has testing facilities for polymer equipment. We have both pilot-size dewatering equipment and semi-works size equipment available for testing your material in our laboratory. Some of our dewatering screw press systems are also available for rental for testing in your facilities.
We configure pilot-size test dewatering equipment with a capacity of 50 to 100 kg/hr to provide our Polymer Group engineers with the necessary data to accurately measure all process variables. Use French's semi-works test equipment with a capacity of 500 to 1,000 kg/hr when you need additional scale-up data or when you require larger test samples. Our Polymer Group engineers have years of experience scaling laboratory test results from our laboratory equipment to commercial machines.
Polymer Laboratory Testing Services
Contact us to reserve a test date to meet your requirements or to inquire about equipment rental. Our engineers are ready to work with you to find the optimal way to dewater and dry your material. We offer confidentiality agreements to ensure that your testing will not to be disclosed to a third party. French performs laboratory testing for many customers, so we understand how important your trade secrets are to your business and we pledge to protect them.
Request Polymer Quote
We want to help you attain optimum process results that meet and exceed industry standards. Partnering with us, we will provide you a custom solution based on your type of natural or synthetic rubber and thermoplastic production. Contact us now!